Eggs belonging to rare black-tailed godwits have been rescued after flooding forced tens of thousands of birds to nest away from the safety of wetlands.
April downpours forced huge numbers of birds away from the Fens in East Anglia, as the Ouse and Nene Washes became submerged, leaving them having to nest on unsuitable farmland, conservationists said.
Wildlife experts trying to protect the black-tailed godwit, which nests in very small numbers in the UK, discovered clutches of their eggs on nearby farmland, trapped in the mud, they said.
But "Project Godwit" experts who are working to boost numbers of the rare bird, teamed up with farmers to rescue 32 eggs, which are now being incubated at the Wildfowl and Wetlands Trust's Welney Wetland Centre.
Project Godwit, a partnership between WWT and the RSPB, is using a technique known as "head-starting", in which eggs are collected in the wild and the chicks raised to fledging in captivity to boost their survival chances.
As well as keeping the young birds away from dangers such as predators and flooding until they are ready to take to the wing, the process can stimulate the adults lay a new clutch of eggs, which also helps boost numbers.
The Ouse and Nene Washes, artificial wetlands created in the 18th century to drain the surrounding area for farmland, are two of just a handful of sites where black-tailed godwits nest in the UK, with numbers of breeding pairs critically low.
Hannah Ward, RSPB project manager at Project Godwit, said: "Historically, they nest on the washes but the high water has forced them onto wheat fields where the eggs have been fused to the mud and the tall crops conceal potential predators.
"Due to the conditions these eggs have been subjected to, we are anticipating a reduction in the number of eggs that hatch."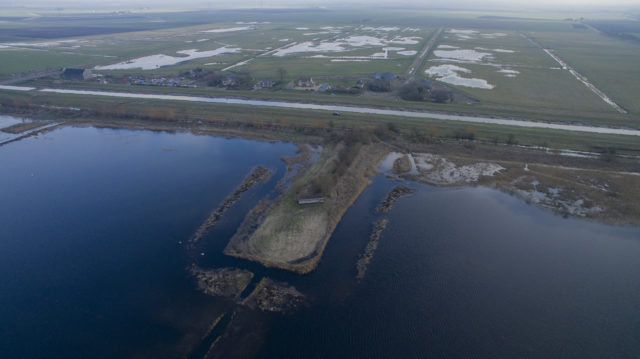 The Ouse and Nene Washes are being affected by a changing climate and pressure from increased amounts of runoff caused by housing developments upstream, leading to excess water later in the year, the conservationists said.
Leigh Marshall, centre manager at WWT Welney, said: "Flooding traditionally used to occur in the winter, but over the past 20 years we are seeing an increasing shift into the spring, affecting two wetlands which are the most important sites for breeding waders in the UK.
"The provision of more sustainable drainage systems along the catchment area, would help wetlands sites like the Ouse and Nene Washes."
WWT and RSPB are creating nature reserves in locations around the washes which can provide safe godwit breeding areas, as part of their efforts to secure the future of breeding black-tailed godwits in the UK.